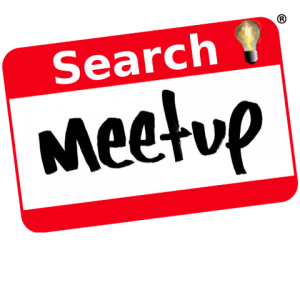 Title

Meetup Search Tool
Long Description
Meetup is a site for people with similar interests to get together on-line so that they can do things together off-line.  There are Meetup groups all around the world.  This is a simple search tool for find the Groups and Events by topic.  The application allows you to restrict the search by zip code and a radius around that zip code.  This application requires internet access.
Version : 1.0.0
Release : April 14, 2011
Cost:
Free
Installation:
Download or use the QR code or search for the phrase "meetup" in the BlackBerry App World.
Missing Features:
The search is limited right now, but I plan on adding more options.
Release Notes:
Version 1.0.2

Features:
Search Groups by Topic
Search Open Events by Topic
Search within Radius of Zip Code
Return of suggested Topic values if search returns zero results
Notes:
PlayBook Simulator was limiting, there may be formatting issues or other issues on the live version.  I hope to get a PlayBook soon and test the application.

Future Planned changes:

Adjust item layouts and fonts to make sure they work well on the device
Add GPS location search option : get the GPS latitude and longitude location and use that instead of zip.  "Meetups near me"
Add City Upcoming Events : The City Meetup pages is a nice feature that shows upcoming events, this might be useful
Add Map of Meetups search option :  show a map and have Meetups pop up on the map based on search options