As part of being a developer you end up spending some time in developer forums. Usually those forums are part of the official site for the development tool or application. But, sometimes you end up in a fan forum that happens to have a developer forum of its own, like the one on CrackBerry.com. And sometimes when you want to find an active group of new developers, you end up in a BBM Group for new developers called Baby Steps: BB Dev.
Well, that's where I found myself when a user named Tom asked for some help. Tom was dipping his toe into Unity for BlackBerry 10. And apparently one of the issues with developing is not being able to know for sure if the app will work on all the devices. Luckily for Tom, he was in a group that had users with Z10s, Q10s, Q5s and one guy had a Z30. I am that one guy.
For testing, Tom chose the route of sharing his updated bar file with the group testing his app. I used vnBb10 to side load the app for testing. It took several revision to get to the released version, but it was fun getting there.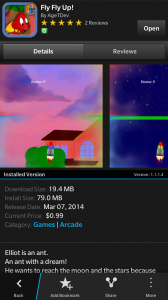 Fly Fly Up is a color matching game. Which means, the player selects a color to match a color presented in order for the game to continue. What you want to do in Fly Fly Up is to keep the red ant, Elliot, flying up and up on his jet pack that indicates your selected color. The premise is simple and the game starts out easy, but if you are a little slow on the finger press, the game gets hard quick.
"Touch quickly. Touch softly. Touch only when necessary. " – Lloyd Summers
Sage advise. The game is addictive because you want to do better and better to beat the high score.
Check out Fly Fly Up! in BlackBerry World! You can find it at http://appworld.blackberry.com/webstore/content/49730421
About DeanLogic Passport
Dean has been playing around with programming ever since his family got an IBM PC back in the early 80's. Things have changed since BASICA and Dean has dabbled in HTML, JavaScript, Action Script, Flex, Flash, PHP, C#, C++, J2ME and SQL. On this site Dean likes to share his adventures in coding. And since programming isn't enough of a time killer, Dean has also picked up the hobby of short film creation. This is my Passport account (formerly my Z30 account) . Any posts made by this account were created Working Wide with my BlackBerry Passport device.