A little while ago, a guy named Joe gave me some help creating a Chat Style ListView.  While I was working on my app, he was working on his app called Painter.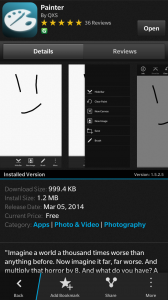 Joe is still making updates to the app, but it is a great app already. You are given the option of brush size, opacity and color. There are also eraser options for when you want to clear something.  For basic doodles, this would be fine. But, you can also load an image to make your doodles on top of. Of course, with the opacity option, it makes it a great tool for capturing images on your phone and then highlighting something in the image.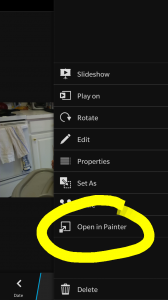 But, it gets better. Joe setup Painter as an option for editing images. So, instead of opening Painter and then loading an image, you can use the Action Menu on an image an "Open in Painter".  This way, you don't have to keep Painter on your first page of apps, because it is always there when you need it.
Joe asked for some help on the Invoke action and some other ideas, which I did my best to explain and he graciously gave me a "hat tip" in his app.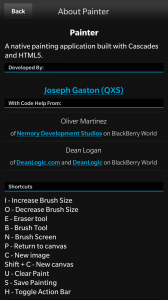 I have made some suggestions for future updates and it sounds like Joe is going to make some nice feature additions in the future.
Check out Painter in BlackBerry World! You can find it at http://appworld.blackberry.com/webstore/content/46330888

About DeanLogic Passport
Dean has been playing around with programming ever since his family got an IBM PC back in the early 80's. Things have changed since BASICA and Dean has dabbled in HTML, JavaScript, Action Script, Flex, Flash, PHP, C#, C++, J2ME and SQL. On this site Dean likes to share his adventures in coding. And since programming isn't enough of a time killer, Dean has also picked up the hobby of short film creation. This is my Passport account (formerly my Z30 account) . Any posts made by this account were created Working Wide with my BlackBerry Passport device.