Just because you build an app to run on a BlackBerry device, doesn't mean that it is Built for BlackBerry. There are guidelines for what is considered Built for BlackBerry. And after you think you have done your best to meet those guidelines, you have to submit your app to be scrutinized by someone from BlackBerry to determine if you did meet those guidelines. On top of that, you only get a limited number of tries to get the app passed.
Built for BlackBerry. The signature BlackBerry 10 experience. Built to keep you moving, apps and games with the Built for BlackBerry designation provide the seamless performance and integrated experience you've come to love. Look for the Built for BlackBerry badge to identify apps and games that deliver the signature BlackBerry 10 experience
Well, after two tries, Meetup for BlackBerry 10 by DeanLogic is now officially a Built for BlackBerry app. The best part is that I don't have to do anything to my app page, it gets a sticker automagically.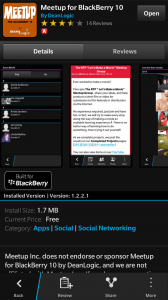 But, there is still more work to be done on the app.
About DeanLogic Passport
Dean has been playing around with programming ever since his family got an IBM PC back in the early 80's. Things have changed since BASICA and Dean has dabbled in HTML, JavaScript, Action Script, Flex, Flash, PHP, C#, C++, J2ME and SQL. On this site Dean likes to share his adventures in coding. And since programming isn't enough of a time killer, Dean has also picked up the hobby of short film creation. This is my Passport account (formerly my Z30 account) . Any posts made by this account were created Working Wide with my BlackBerry Passport device.