As I have stated before, I am okay with the whole smart watch concept, but I believe that most smart watches are going down the wrong path in their implementation. I don't believe a smart watch should be a complete replacement for your smart phone. I believe that it should complement the phone and also do its main function; tell time.  Also, I am a big fan of keeping BlackBerry around and helping them thrive and grow into different areas.  My support isn't solely based on my app building, but in my strong belief that innovation only really happens when their is plenty of competition.  We don't need just two players fighting over the phone/watch/wearables world.  There should be plenty of players who offer different ideas and takes on what the consumer needs.  Not all consumers are alike and we shouldn't be treated the same.
One way I have been trying to effect change is through social media.  Sure, I probably amount to a pebble being dropped into a raging volcano, but I try to get my voice out there.  My focus had been directed at @BlackBerry and @BlackBerryDev for my BlackBerry based Twitter rants and raves. But now, the current CEO of BlackBerry, John Chen has joined Twitterverse with @JohnChen (stop by and say hello).
Back to the smart watch.  About a 1/2 year ago, a company called Kairos started taking pre-orders for their smart watch. The best thing about this watch was that it was both a mechanical watch and a digital watch.  The mechanical watch is seen always and a digital screen overlays the face to display graphics and text when needed.  So, no matter what, you always had a functioning Swiss/Chinese chronograph and the added bonus smartness of a digital display.  Perfect!  They even have the option of turning any regular watch into a smart watch with their T-band, which is a smart band with a touchscreen and health sensors.  Genius!  Together, you can have a mechanical/digital smart watch and smart band. Amazing!  All the smartness you need from your watch and a great look as well.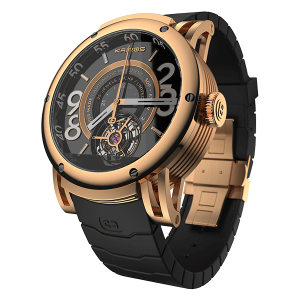 Okay, now, it has been 6+ months and they have had some issues getting the watches out.  I even know someone who bought one of their watches at the pre-order price and is still waiting.  He said that they had some issues with the displays.  But, no worries, I see this as an opportunity and I made some Tweets about it.
@JohnChen you know you like to make a statement.@kairoswatches a subsidiary of @BlackBerry A smartwatch for the Enterprise crowd. Make it so

—  DeanLogic ♎ (@DeanLogic) June 9, 2015
@JohnChen seriously, @BlackBerry needs to acquire @kairoswatches . Those are the perfect. @PorscheDesign could even design a matching one.

—  DeanLogic ♎ (@DeanLogic) June 9, 2015
Then @BBM made a Tweet about BBM on Android Wear watches.
@BBM @knobtviker yes…but you know what would be better? @kairoswatches owned by @BlackBerry so we have a actual BB Watch.

—  DeanLogic ♎ (@DeanLogic) June 10, 2015
So, I decided to make a little mockup of a BlackBerry Kairos watch. I added BBM and Blend, just to make it even more BlackBerry.
@JohnChen wouldn't a @BlackBerry @kairoswatches be a nice addition to the line up? @BlackBerryDev @BBM pic.twitter.com/bJiSRnNArF

—  DeanLogic ♎ (@DeanLogic) June 10, 2015
About DeanLogic
Dean has been playing around with programming ever since his family got an IBM PC back in the early 80's. Things have changed since BASICA and Dean has dabbled in HTML, JavaScript, Action Script, Flex, Flash, PHP, C#, C++, J2ME and SQL. On this site Dean likes to share his adventures in coding. And since programming isn't enough of a time killer, Dean has also picked up the hobby of short film creation.