Lately there has been an uptick in wearable devices. Most likely due to the introduction of the Pebble and the latest rumors and announcements of smart watches from Samsung, Apple and Google, among the big hitters. With everyone coming out with what they seem to think a smart watch should be, I figured I should share my thoughts, just in case someone decides to build one.
The first thing is to focus in just the watch. Another wearable device that has been popular is the smart band. Nike Fuel Band, Fitbit, Jawbone and others are battling it out in this area. I hope that they continue to do so, regardless of what happens in the watch arena. I think that wearable body measuring devices, whether it be a tag or a clothes, has its own place. Even if some do provide feedback to the user and crossover into the smart watch segment, there is enough differentiation to keep competition strong in each segment. I believe this so much, that I have been trying to get my hands on a developer Razer Nabu in order to make an app for BlackBerry 10, yet I still want the perfect smart watch beyond the biometric devices.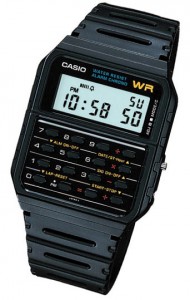 So, back to the watch. Since I was a kid, companies like Casio have attempted to make the watch smarter. While it was cool in the 1980's to have a calculator or a game on your watch, you wouldn't be taken seriously, unless you were a rocket scientist or something similar. The watches always looked silly. A trend in the past decade has been to make watches tell time in binary or some other fancy method that only the user could hope to understand. The commonality here is, let the watch be a watch first. Something as simple as an analog watch face has worked for over a century, because it is simple and it works. When smart watch companies forget this basic premise, then it becomes a novelty and not a trend.  Of course, part of the problem with most smart watch companies is that they are not watch companies.
The other path taken with watches was to keep the analog functionality and add to it with all sorts of sports tracking features. For me, this is the correct direction for a smart watch. It is a watch first, makes no bones about being a watch, but also proclaims that it is more than just a watch. Again, Casio put their best effort into the ring, but I always thought Timex did a better job with their IronMan watches. But neither company really provided a watch that could be multifunction and be taken to a "function". You would wear your smart sports watch to the trail or to the game, but wear a much nicer watch for the a night out.  Not only were the watch faces crowded, but the plastic and rubber bands made it obvious what the true purpose of the watch. Again, simpler has a way of impressing more than complicated and nobody is going to think your sports watch is stylish.  This was the case until Citizen, TAG Heuer and Tissot started changing things.

 Even though medium to high luxury watches have been around for a long time, it wasn't until the 90's that medium to high luxury sport watches started making inroads due to the popularity of some sport stars.  I probably don't even have to name a particular sports star's name, because you probably already associate TAG Heuer with him, which (until really bad press happens) is probably the best way to get something trending in the hands of others. Citizen was early in pioneering smart watches by making ordinary watches use kinetic energy and solar power to keep their watches ticking. The kinetic energy watch seemed a bit annoying and that's from being worn by a friend of mine and not me. However, Citizen kept trying and even came out with a watch called the Proximity, which had Bluetooth connection to a smart phone in order to share notifications. Unfortunately, the Proximity suffered from connection issues and pretty much market obscurity. It was a good attempt, a better attempt than most of the current efforts. I hope that Citizen keeps innovating and tries to enter the smart watch segment again.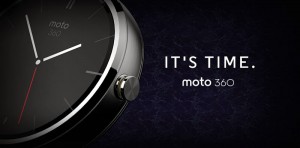 The only upcoming smart watch that I feel comes close to a half decent effort, while still being a screen watch, is the Moto 360. And the main reason that I like it above all the 90 degree angled offerings is that it is trying t0 be a watch first. A huge thick watch, but a watch. Even with it running Android Wear, it is a very tempting watch due to its round shape and their efforts to advertise it as a watch first, even though it is a screen. I just hope it doesn't feed ad tracking relative information about me as I move around. But, that is not where I would start for a smart watch.
Martian Watches is a close second as a starting point, as they try to provide stylish watches and the connection to the phone. But, Martian has a way to go to catch up with Tissot's quality and functionality. For one thing, it isn't water proof and from one review of their watch, it didn't seem very responsive. As an entry level DeanLogic Smart Watch, the Martian would be great, if they would only open their API. They are doing the main concept that I like, which is to have the phone figure out the app logic and just send the basic commands to the watch.  And even though some of their watches are rectangular, they are watches first and then smart watches. Martian has also hit a good note trying to create watches that are aimed towards women as well, which seems to be something missing from the screen watches.

The DeanLogic Smart Watch still needs to be classy when worn. So, no plastic band and video screen will do. I applaud Pebble for coming out with metal version of their watch, it is an improvement. However, money not being an object, the Tissot Touch is where I would start with a smart watch. First, it is already a smart watch with a barometer, altimeter and a face that is touch sensitive  (hence the name) among some of the features offered. Tissot has even taken a page from Citizen's book and made it solar chargeable. The watch already comes in a metal wrapping, built for activity (sailing and racing have their own versions) and the battery lasts for months, not hours.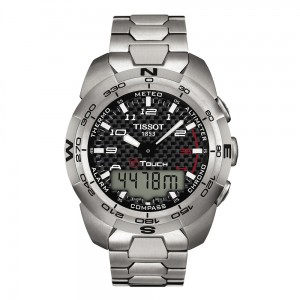 Also, it looks good enough to wear all day at any event and then change into a suit or tux and not have to worry about pulling out another watch.  Sometimes you have to pack a little lighter.
From there, it needs low power connection to a smart phone that controls all the functions.  Bluetooth has improved its low power connections and their are other options.  What the watch doesn't need is a connection to the Internet, let your phone do that. Tissot's hands move with each function, so if your smart phone detects a timezone change, it could change the time on the watch. While it doesn't sound important, being able to move any of the mechanical feature of the watch from the app is important. Other needed features would be light and vibration notification, which could use the Touch's already built-in features. A few LED rings around the face to change the color based on the notification level and a half arch for the LCD screen for text notifications and a separate screen for default and developer made icons, are the only obvious changes.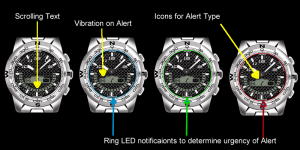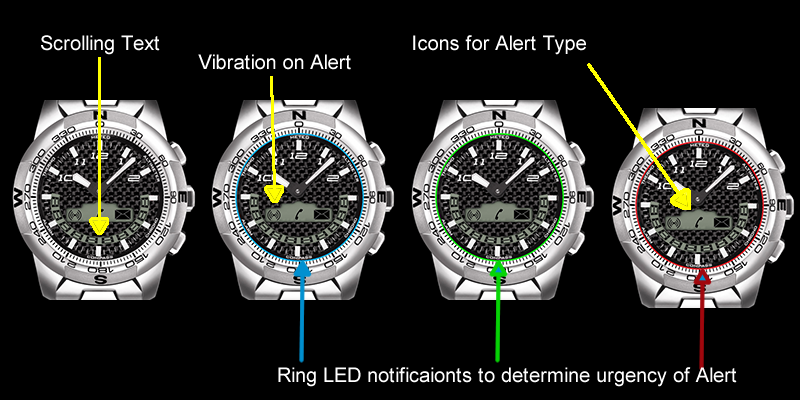 No need to build an app to live on the watch. BlackBerry 10 has Cards for interaction from one app to another. The DeanLogic Smart Watch app would only be a headless app with a Card that can be accessed by any app that a developer wants to make connect to the watch. No need to download a SDK to get your app connected.  The watch should have NFC tag on the back for synching to the phone and the headless app. This would help with making a quick and secure connection between the phone and the watch.  Any apps loaded on the phone that use the watch Card would trigger a notification the first time it invoked the Card.  At that point, the user could see what features the app would access and decide to allow or not allow.  If your smart phone doesn't have NFC, well, you might be wonder about how smart your phone really is.   The Card would have basic features of text, LED, vibrate and the advanced features like being able to set the face hands. The watch would send back information when requested as well, including screen touch to acknowledge notifications. Since the phone app does all the thinking, developers could have an app that tracks body monitors while you do repetitions and then send the count to the watch as a counter using the face hands.
The most important part of the control of the watch, it should be "open".  When I read that Android Gear won't be compatible with iPhone, Windows or BlackBerry, that just angers me.  There is no reason to limit an accessory to one phone OS.  If you make the watch well enough, you might have imitators, but you will always win over those who don't want cheap knock-offs.  And if you open it up to any phone (or, what I would call the master controller) connection, then you don't have to worry about one phone falling out of favor and then losing all of your possible customers.  If the connection from the phone to the watch is secure and simple, then the commands should be readily accessible without the need for SDKs.
It probably would have been better for one of the phone companies to purchase one of the watch companies.  This would have helped keep things in perspective.  For now it is up to the body sensor people to keep pushing out their gadgets so that people don't feel that the smart watches are the be all in wearable smart devices.
Full disclosure: I typed up to 1000 words of this article on my Z30 before opening it up on my PC. I added the majority of links and photos but, at that point, I couldn't resize the inserted photos properly and I needed a bigger screen to see the entire story. I did created the final image on my PC as there isn't an app to do it on my Z30 and I doubt it would have been much fun trying.  I love my Z30, but sometimes you need a PC.
About DeanLogic Passport
Dean has been playing around with programming ever since his family got an IBM PC back in the early 80's. Things have changed since BASICA and Dean has dabbled in HTML, JavaScript, Action Script, Flex, Flash, PHP, C#, C++, J2ME and SQL. On this site Dean likes to share his adventures in coding. And since programming isn't enough of a time killer, Dean has also picked up the hobby of short film creation. This is my Passport account (formerly my Z30 account) . Any posts made by this account were created Working Wide with my BlackBerry Passport device.